Welcome to the Hotel Aquila: in the heart of Cortina, in the heart of the Dolomites!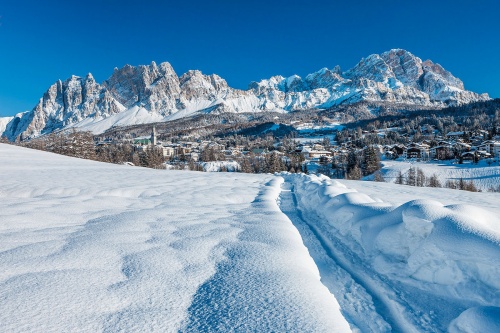 Convenient for exploring the town centre and its leisurely rhythms…
Its prime location on the famous pedestrian precinct of Corso Italia that just oozes glamour and tradition, makes the Hotel Aquila the ideal place to savour the unique atmosphere of Cortina, the Queen of the Dolomites, both in summer and winter. The unrivalled beauty of this town and its colourful personality stirs the spirit of all who encounter it, regardless of their tastes and interests. Whether you have been drawn to Cortina for skiing, hiking or mountain biking or if you favour socialising, entertainment and shopping or simply adore the wonders of nature at its most magnificent, Hotel Aquila is the perfect place to spend a holiday indulging your passions or just chilling out.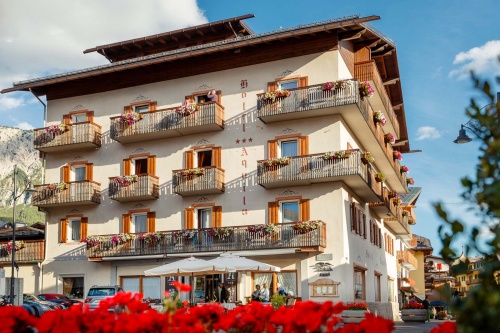 ... enveloped in the stunning natural landscape of the magical Dolomites!
Leave the daily grind and all those routine chores behind you, rediscover the joy of getting around with no need for a car. After indulging yourself with all the sweet and savoury treats of a delicious buffet you will start the day with a smile, brim-full of energy. You can take a relaxing dip in the pool, sip an aperitif with friends at the bar, taking all the time you need to enjoy the experience in the warm, welcoming  atmosphere of the Hotel Aquila. Rediscover the sheer pleasure of rest and relaxation in our spacious light-filled rooms with classic Alpine-style wooden décor plus all the comforts for a truly delightful stay. The Hotel Aquila for an unforgettable holiday in the beating heart of the Queen of the Dolomites!
Hotel Aquila Cortina ***
Piazza Pittori fratelli Ghedina, 1
32043 Cortina d'Ampezzo (BL)
E-mail:
info@aquilacortina.com
Telefono: +39 0436 2618
Fax: +39 0436 867315