How to get to Cortina d'Ampezzo
Hotel Aquila is right in the centre of Cortina d'Ampezzo, in the famous pedestrian precinct of Corso Italia. Cortina d'Ampezzo can be reached by car from the A27 (Venice-Belluno), and the A22 (Modena-Verona-Bressanone-Innsbruck) motorways. Cortina has excellent connections with Venezia and Treviso airports and with Venezia/Mestre train station, using comfortable buses or a private transfer service.

DISTANCES
Venezia: 162 km     Milano: 432 km     Innsbruck: 156 km
Motorway exits  A27-Belluno: 72 km     A22-Bressanone: 87 km

ARRIVING BY CAR
A27 Venice – Belluno motorway
A22 Modena – Verona – Bressanone motorway
 
ARRIVARE IN AEREO
Venezia "Marco Polo" - TREVISO "Antonio Canova"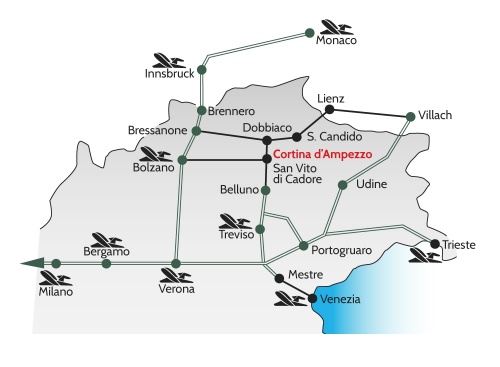 Bus links
Daily, year-round bus services link Cortina d'Ampezzo with Venice airport. It takes just a little over 2 hours to reach the Queen of the Dolomites. Info and timetables: Cortina Express, ATVO

ARRIVING BY BUS
Plenty of comfortable buses link Cortina d'Ampezzo with Treviso, Venice and other cities. The Cortina d'Ampezzo bus station is in Via Marconi, very close to the central pedestrian area. Info and timetables: Cortina Express, Flixbus

ARRIVING BY TRAIN
The nearest train stations are Calalzo di Cadore - with bus service to Cortina d'Ampezzo by Dolomitibus - and Dobbiaco - with bus services to Cortina d'Ampezzo by Cortina Express or SAD.

Train timetable: Trenitalia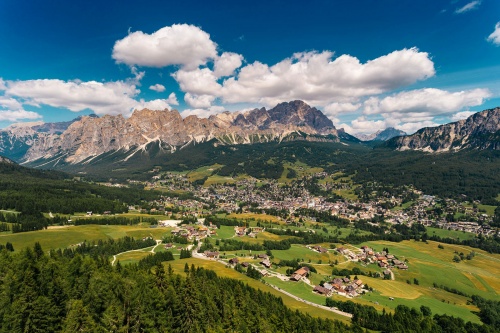 Hotel Aquila Cortina ***
Piazza Pittori fratelli Ghedina, 1
32043 Cortina d'Ampezzo (BL)
E-mail:
info@aquilacortina.com
Telefono: +39 0436 2618
Fax: +39 0436 867315